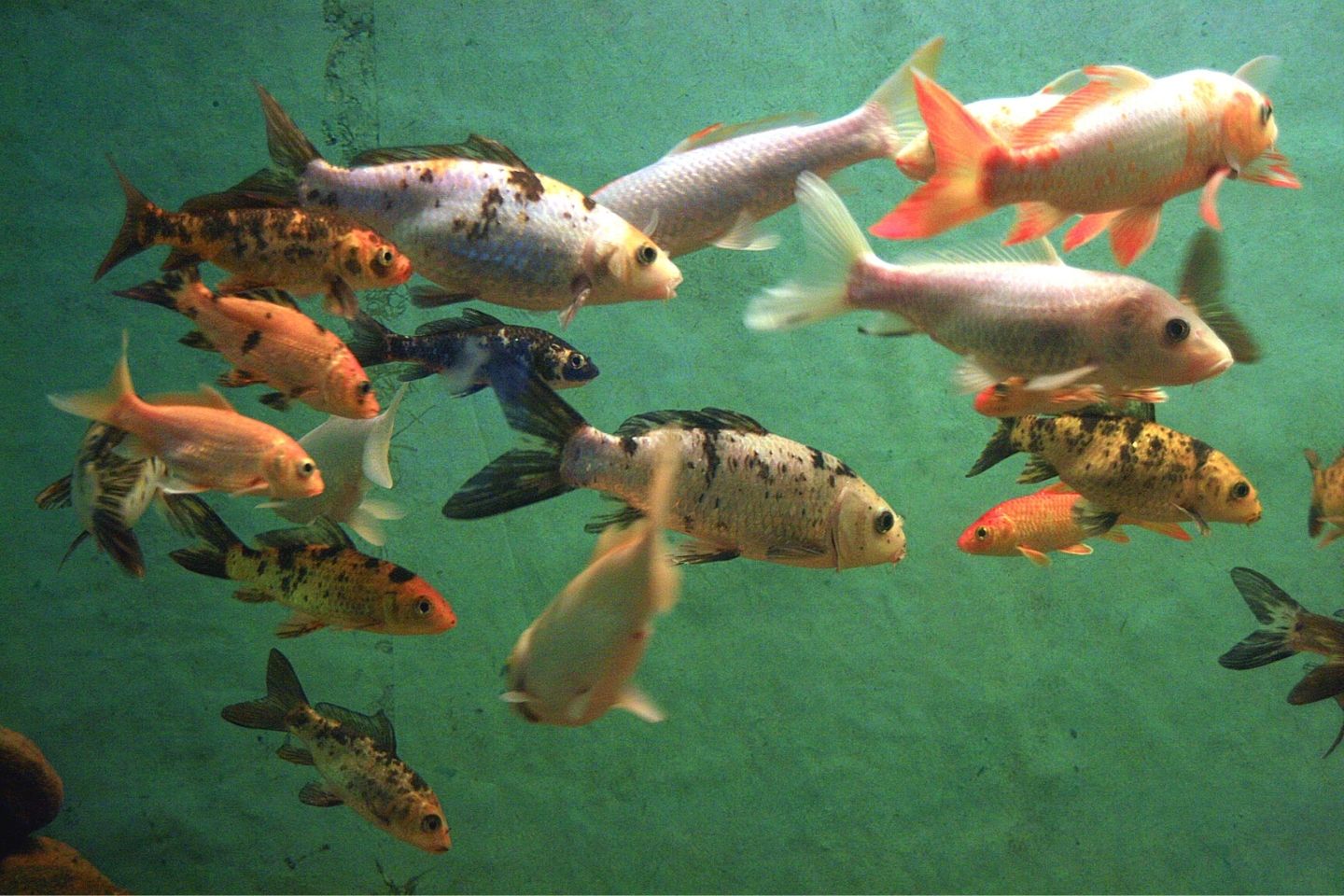 Bangalore Aquarium at Cubbon Park Entry Fee
Entry is free for children below 12 years of age
Bangalore Aquarium at Cubbon Park Phone
---
Rating:

| 3/5 stars
Based on total 54 reviews
Bangalore Aquarium at Cubbon Park Address: Cubbon Park, Kasturba Road, Near Chinnaswamy Cricket Stadium, Bengaluru, Karnataka, 560001, India
Bangalore Tour Packages
Bangalore Local Sightseeing Tours
Bangalore Aquarium at Cubbon Park Timings
| Day | Timing |
| --- | --- |
| Monday | Closed / Holiday |
| Tuesday | 10:00 am – 5:30 pm |
| Wedesday | 10:00 am – 5:30 pm |
| Thursday | 10:00 am – 5:30 pm |
| Friday | 10:00 am – 5:30 pm |
| Saturday | 10:00 am – 5:30 pm |
| Sunday | 10:00 am – 5:30 pm |
Links:
Website
|
Map
---
Also known as the second largest aquarium in India, Bangalore Aquarium or Government Aquarium is one of the popular tourist places to visit in Bengaluru that promises a unique experience to both adults and children.
Ideal for aquatic enthusiasts and casual travellers, Bangalore Aquarium presents plenty of fishes, ranging from indigenous to ornamental to exotic fishes, such as Catla, Goldfish, Siamese Fighters, Freshwater Prawns, Red Tail Shark and many more. Adding to these are Moon Tail, Angelfish, Hocks Stick, Blue Gourami, Eels, Pearl Gourami, Indian Tiger Barb, Mahseer and Glowlight Tetra.
Established in the year 1983, Bangalore Aquarium gives you a glimpse of the underwater marine world with a rare species of flora and fauna that have been kept here in small and large glass tanks of water. Located in Cubbon Park, this aquarium has created a natural-like habitat to cultivate an exclusive variety of fishes for all those who are fond of aquatic life. Unlike other places, it is under the control of the Karnataka State Department of Fisheries and is a must-visit for all.
Image Gallery of Bangalore Aquarium at Cubbon Park
Structure of Bangalore Aquarium
Featuring an octagonal shaped building, the Bangalore Aquarium is spread across a 3-storied building which comprises the laboratory and office on the ground floor. There is also a small outlet offering fish feed.
Out of the three floors, the first floor has 14 massive tanks. All these tanks display a cultivable variety of huge fishes. Watching them live and in close proximity is a kind of experience that you shouldn't miss.
The second floor consists of two rows of 69 water tanks that give you a lifetime opportunity to observe and interact with multi-coloured fish species. And, if you go on the third floor, you will see that the floor houses an array of exotic fishes that are most interesting to watch.
Entry Fee and Timings of Bangalore Aquarium, Bengaluru
To visit Bangalore Aquarium at Cubbon Park, you need to pay INR 15 per person for both domestic and international travellers. If you are travelling with children who are below 12 years of age, then there is no entry fee for them.
Coming to its opening and closing timings, Bangalore Aquarium welcomes its visitors from 10:00 AM to 5.30 PM on all days of the week except on Monday and the second Tuesday of every month. The recommended exploration time is 2-3 hours.
Travel Tips for Bangalore Aquarium, Bengaluru
Click pictures to cherish your visit forever. It is allowed to take your mobile phones and cameras inside the aquarium for free.
Bring your water bottles along with you. You might feel thirsty while exploring the surroundings of this aquarium.
Do not worry about the parking of your vehicle if you're driving all the way. There is enough parking space for visitors.
Keep your personal belongings safe and secure. The management is not responsible for anything in case anything happens.
Outside food is prohibited inside the aquarium. Hence, you need to make sure that you follow all the rules and regulations.
A tour to this city offers tourists with enriching experiences and fulfilled memories and the best way to explore is with.our Bangalore city tour packages.
Best Time to Visit Bangalore Aquarium, Bengaluru
Although there is no specific time to see the pristine panorama of colourful marine animals at Bangalore Aquarium, if you want to make the most of your visit, you can enjoy your Bengaluru city tour in the winter season that starts from October and continues until February.
At this time, the city offers pleasant weather conditions, with temperature varying from minimum 12-degree Celsius to maximum 27-degree Celsius, thus making the sightseeing enjoyable for everyone.
However, if you cannot visit this magnificent city in winter, you can head towards the aquarium in summer as well. In summer i.e., from March to May, even though the temperature sometimes touches 33-degree Celsius, the overall climate is quite comfortable to roam around the place.
Avoid it during the monsoons i.e., from July to September. Because the region receives heavy rainfall, it may cause problems for people to explore the outdoor tourist interests that the city is widely known for.
Places to Visit near Bangalore Aquarium, Bengaluru
While there are several things to do and see around Bengaluru during your Bangalore local sightseeing tour, the city also boasts of a few tourist points of interest that are worth-visiting whenever you're at the Aquarium. These include:
Cubbon Park: Spreading over 300 acres of land, Cubbon Park is the first nearby attraction that invites people to relax and rejuvenate in a calm and peaceful atmosphere. Combining scenic beauty with natural greenery, this park is home to more than 6,000 trees and plants that attract tourists from all over the world.
Jawahar Bal Bhawan: Another destination that is frequently visited by kids is the Jawahar Bal Bhawan. Perfect for a half-day excursion, it is a famous theme park that keeps your children entertained with several fun and play activities. Here you can also find a doll museum along with other facilities like horse rides, tree houses, boating and toy trains, etc.
Bangalore Palace: Nestled within easy reach of Bangalore Aquarium, Bangalore Palace, with an epitome of a mesmerizing architecture, represents a mix of royal history, heritage and culture in a great way. Built in 1878, the palace captivates the attention of its visitors with its unmissable charm and beauty that is hard to get anywhere else in the world.
ISKCON Temple: Just 5 km away from the aquarium is the ISKCON Temple that is dedicated to the devotees of Lord Krishna. A religious shrine for the Hindu community, the ISKCON Temple creates an environment where you can rediscover the spirituality for the happiness of your inner soul and feel positive in the harmony of nature.
Vishweshwaraiah Museum, National Gallery of Modern Art, Lalbagh Botanical Garden, Indira Gandhi Musical Fountain Park, Wonderla Bangalore, Venkatappa Art Gallery, Tipu Sultan's Summer Palace and Bannerghatta Biological Park are several other places that can be explored if you're in Bangalore for a week or more.
Got more time? Plan a quick weekend getaway from Bangalore. Historically rich city of Mysore still presents a glimpse into the stateliness of the past accompanied by a vibrant culture. Explore this heritage city with our 1 Day Bangalore to Mysore Tour Package.
How to Reach Bangalore Aquarium, Bengaluru?
Since Bangalore Aquarium is situated at the entrance of Cubbon Park, it can be easily accessed by people of all ages by a local bus or an auto-rickshaw. The main 3 modes of transportation include:
By Air: Bengaluru International Airport, which is approximately 40 km drive away from the aquarium, takes a total of 1 hour and 10 minutes to cover this distance. After arriving at the airport, book an airport taxi to Bangalore city from Bengaluru International Airport. In addition, there is also an airport shuttle service available for your convenience.
By Train: Another convenient way to reach Bangalore Aquarium is by train. Catch a direct train to Bengaluru City Railway Station or Yesvantpur Junction from Delhi, Pune, Hyderabad, Mumbai or any other prominent city of India to enjoy a hassle-free journey to Bengaluru. Both stations are the major railway stations of this city, where Bengaluru City Railway Station is only 5 km away and Yesvantpur Junction is only 9 km away from the city centre.
By Bus: Last but not the least, the Karnataka State Road Transport Corporation operates several buses that connect Bengaluru to major highways and other neighbouring areas. Majestic Bus Station is the primary interstate bus station in Bangalore. You can choose to travel via a regular, air-conditioned or a Volvo bus as per your comfort. However, the booking of Volvo buses and sleeper coaches is sometimes done in advance, so make sure to get your arrangement done before if you're planning your trip during the peak season.
By Private Car: After your arrival at Bangalore Airport / Railway Station / Bus stop, you can book a private cab from one of the top car rental companies in Bangalore to reach Bangalore Aquarium at comfort. Many cab service providers offer 4, 8 & 12 hours car hire packages that you can choose from.
Catering to your diverse needs, we at Bangalore Tourism, a division of Holidays DNA, have designed a wide variety of all-inclusive Bangalore tour packages that help you make the most of your trip while exploring the popular sightseeing places in Bangalore. You can also ask our assistance about the on-going travel deals (if there are any) along with customizing the itinerary of your choice. For more information, we request you to fill in the Contact Us form.
Location Map for Bangalore Aquarium at Cubbon Park