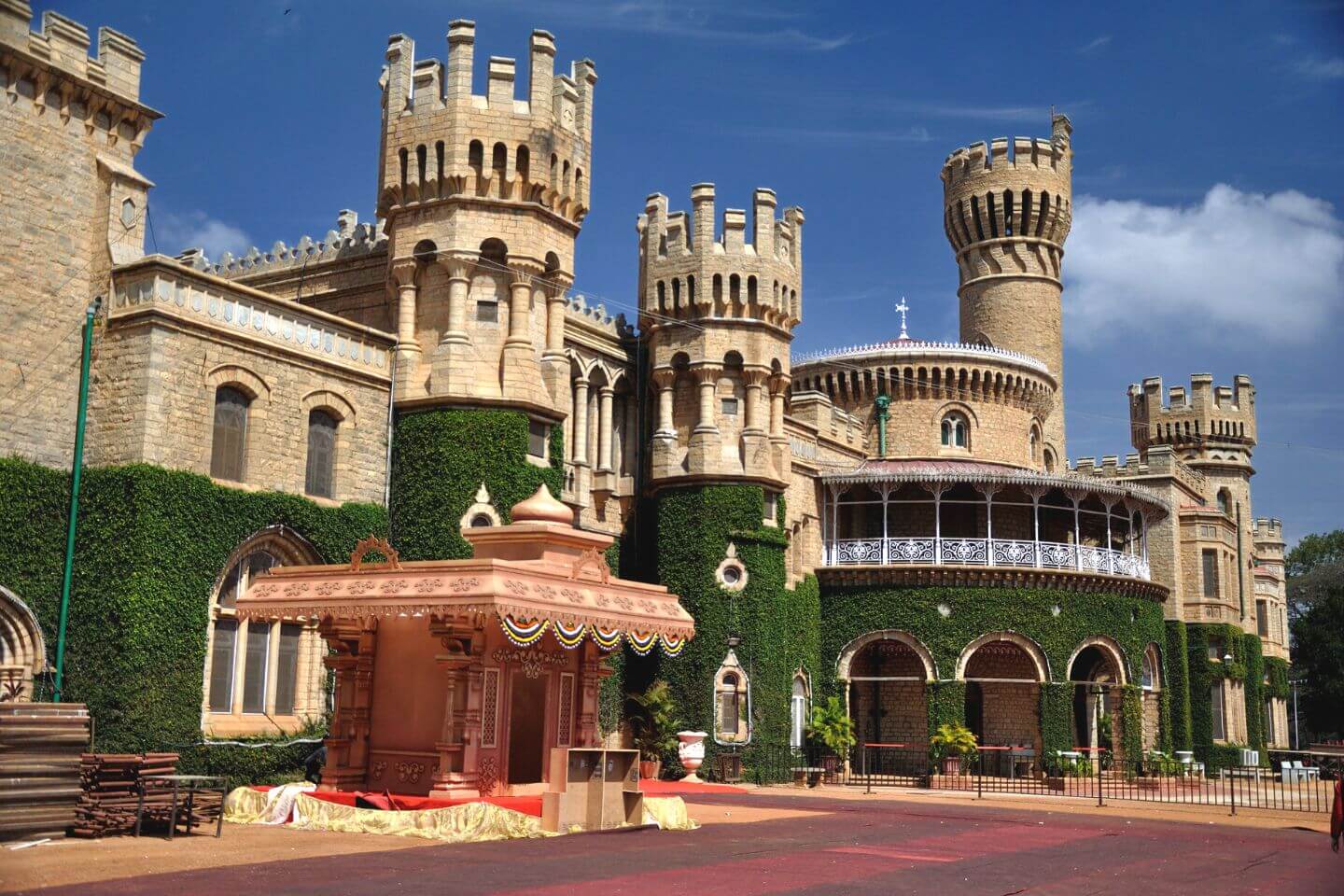 Bangalore Palace Entry Fee
230 per person for Indians
460 per person for Foreign Tourists
685 for Still Camera
285 for Mobile Camera
1485 for Video Camera
Bangalore Palace Phone
---
Rating:

| 4/5 stars
Based on total 103 reviews
Bangalore Palace Address: Near Mount Carmel Institute of Management, Palace Road, Vasanth Nagar, Bengaluru, Karnataka, 560052, India
Bangalore Tour Packages
Bangalore Local Sightseeing Tours
Bangalore Palace Timings
| Day | Timing |
| --- | --- |
| Monday | Closed |
| Tuesday | 10:00 am – 5:30 pm |
| Wedesday | 10:00 am – 5:30 pm |
| Thursday | 10:00 am – 5:30 pm |
| Friday | 10:00 am – 5:30 pm |
| Saturday | 10:00 am – 5:30 pm |
| Sunday | 10:00 am – 5:30 pm |
Links:
Website
|
Map
---
An epitome of the majestic beauty in Bengaluru is the Bangalore Palace. Known for its mesmerizing architecture and beautiful wooden carvings, this palace captivates all its visitors with its incomparable beauty.
Situated in the heart of the city, in the Palace Gardens, Bangalore Palace is a place worth visiting for holiday makers of all ages. Widely famous for preserving the essence of regal opulence, the Bangalore Palace is the renowned landmark of the city that gives you a chance to know how the family members of Wodeyars used to live their royal lives in the castle.
Featuring a mix of Tudor and Scottish Gothic architecture with unique artifacts, chandeliers, wooden staircases and unique carvings inside and outside the palace, the Bangalore Palace houses several attractions such as the Palace Ground and Fun World to attract people from all over the world. In addition, there is also an audio tape with headphones for people to understand the history of Bangalore in detail. The audio tape is available in both Hindi and the English language for all those who have a language issue.
As one of the must-visit sightseeing places in Bangalore, this palace definitely deserves your attention whenever you plan to explore the popular tourist attractions on your Bangalore tour.
Image Gallery of Bangalore Palace
Bangalore Palace Ground
Surrounded by lavish lawns, the ground of the Bangalore Palace was once considered the hub of organizing several cultural shows, exhibitions, concerts and international events. For many years, the famous personalities and musical bands such as Akon, The Rolling Stones, Ludacris, Jay Sean, Black Eyed Peas, Guns N' Roses, Deep Purple, Backstreet Boys, etc have spread their magic at the Palace Ground.
However, after a fight that happened between the royal family and the officials of the local government, the ground was no longer available for hosting such commercial programs. After that, it was only the members of the royal family and their closed ones who were allowed to organize the get-to-gathers over there.
History of Bangalore Palace, Bangalore
The Bangalore palace was constructed in the year of 1887 by the Wodeyar Dynasty. It is said that King Chamaraja Wadiyar of the Wodeyar dynasty was quite impressed by the Windsor Castle of London during one of his trips to England. Hence, he built the Bangalore Palace on similar lines.
Earlier, the land where the Palace proudly stands today was owned by Rev. Garrett, who was the principal of Central High School in the cantonment town. Later, in 1873, it was purchased by the British officials of minor Maharaja Chamaraja Wadiyar at a price of INR 40,000. Since the guardians were responsible for his complete education and other administrative training activities, they used his funds to buy the place.
A year later i.e., in April 1874, the construction of the Bangalore Palace started. Mr. John Cameron, who was behind the landscaping of Lalbagh, handled the work of this palace as well. The initial construction got completed in 1878 and in the subsequent years, further changes, improvements and additions were made to make it look like the resembling image of Windsor Castle of London. Finally, in 2005, the Bangalore Palace opened its door for its visitors to come and adore its architectural beauty.
Architecture of Bangalore Palace
Built in Tudor-style architecture, the Bangalore Palace resembles the medieval castles of Normandy and England to some extent. Sprawling over an area of 45,000 square feet with the ground occupying more than 454 acres, the interior of the palace is mostly constructed of elegant wooden carvings that have been carved beautifully and are adored with brilliantly done paintings on ceilings.
Some of the worth-noticing features of the two-level building are battlements, turrets, gothic windows and fortified towers with Roman arches welcoming people at the entrance. On one side, where the impressive furniture designed with the Edwardian, Victorian and neo-classical elements give a personal touch to the décor, the stained-glass windows and mirrors on the other side are sure to please your eyes. In the centre, you will see a mythological two-headed bird "Gandaberunda" symbolizing immense magical strength.
A total of 35 rooms and a large swimming pool is there inside the palace along with a huge open square courtyard on the ground floor which consists of many granite seats decorated with ceramic tiles of fluorescent blue colour. In addition, there is also a ballroom which was used by the King for his private parties.
The major highlight of the Bangalore Palace is its Durbar Hall, which was earlier used to address the assembly. It is embellished with various paintings and a huge elephant head. Located on the first floor, the walls and seating of the Durbar Hall are of yellow colour and has a screen at the ends of the room so as to provide a veil to the ladies who used to watch the court's proceedings.
Another attraction includes the remarkable old paintings that trace history back to the 19th and 20th centuries. You can also spot paintings of the well-known artist Raja Ravi Varma on the walls of the palace. Some of the things that capture your attention is the dining table of the Diwan of Mysore, Sir Mirza Ismail, that adds on the overall charm of the palace. An extensive collection of pictures that represent the journey of various generations of the Wadiyar Dynasty is also there for your interest.
Things to do at Bangalore Palace, Bangalore
Visit the royal rooms of the palace for an enlightening experience.
Take a short stroll in the garden encompassed by lush-greenery to relax and rejuvenate whilst admiring the natural beauty at its best.
Capture some awesome clicks to bring some memories back home. With a background of the Bangalore Palace in your backdrop, you're sure to get some photographs that will stay with you forever.
Entry Fee and Timings of Bangalore Palace, Bangalore
The entry fee to visit Bangalore Palace in Bangalore is INR 230 per person for Indians and INR 460 per person for foreigners. It welcomes its visitors from 10:00 AM in the morning to 5:00 in the evening on all days of the week. You can also take your mobile camera and video camera along at a nominal charge of INR 285 and INR 1485 respectively.
Travel Tips for Bangalore Palace, Bangalore
Though photography is allowed at the Bangalore Palace premises, but it is limited here. Hence, it becomes even more important to have prior permission for clicking the photographs.
Try not to touch any artifacts. A few of them are 100 years old and are undoubtedly the sole property of this palace. If you touch them, you might end up damaging them intentionally or unintentionally.
Make sure to check with officials for the palace status before you pave your way towards it. Sometimes, due to renovation, the authorities may restrict your entry.
Do not roam around all over the place. The public is allowed to visit only a certain portion of the Bangalore Palace.
Do not throw anything here and there inside the palace. If you do so, you'll be charged with some penalty amount.
Always wear sunglasses and a hat in summers to protect yourself from the harsh sunny day. There are times when it gets pretty hot in the afternoons.
Best Time to Visit Bangalore Palace
Thanks to its altitude, Bangalore is blessed with awesome weather conditions throughout the year. The pleasant climate invites people to enjoy a visit to this city at any time. However, the best time to make the most of your Bangalore city tour would be the winter season i.e., from October to March month.
At this time, the overall atmosphere is quite chilly, with temperature sometimes dropping to even 12-degree Celsius, thus making the sightseeing and street-hoping delightful for everyone. You wouldn't need to carry heavy woollen clothes along but a light-weight jacket or a stole will be enough for you, especially in the nights.
If you cannot make it in winter, we advise you to plan your trip in the summer that begins in March and stay until May. Even though the temperature touches 35-degree Celsius during this season, the climate is still bearable for outdoor exploration.
Interesting Facts About Bangalore Palace
There are approximately 30,000 photographs at the Bangalore Palace.
It costs a total of one million rupees to make the palace look extravagant.
Bollywood actor Akshay Kumar's movie Rowdy Rathore's song 'Dhadang Dhang Dhang' was picturised at the premises of the palace.
Several Kannada movies have been shot here. You can see a glimpse of this palace in a movie song or a particular scene.
In 2007, Iron Maiden's Eddfest concert created history at the Bangalore Palace Ground. It was said to be the highest paid concert in India until that time.
Jay Sean and Ludacris on 22 September 2011 gave the music performance at the Palace Ground for the inauguration of the Champions League T20 series.
Metallica, also known as the American Heavy Metal Band, performed in October 2011 at the Palace Ground for the first time in India, which turned out to be their last event in the country. After their event, the government didn't allow anyone to rent the Palace Ground for such kind of events.
Places to Visit around Bangalore Palace, Bangalore
Wondering which place to visit first after spending 3-4 hours at Bangalore Palace? Well, for your ease, we at Bangalore Tourism, a division of Holidays DNA, have listed out the top 5 attractions that can be covered on your 1 day Bangalore tour package. These include:
Cubbon Park
An oasis of natural greenery with a calm and peaceful atmosphere is what Cubbon Park is all about. Sprawling over 300 acres of land, the Cubbon Park is a scenic tourist attraction that comprises over 6000 colourful trees, bamboos, flowerbeds and several other monumental buildings. It is just 15-minutes away from Bangalore Palace.
ISKCON Temple
Dedicated to the devotees of Lord Krishna, ISKCON Temple is a famous religious shrine in Bangalore that offers a holy and divine atmosphere to all those who are visiting the temple for the inner peace of their soul. Irrespective of the religion you belong to, you can visit this temple to take blessings from the presiding deity. It is just 24-minutes away from Bangalore Palace.
Snow City
Why to visit hill-stations when you can experience the icy-cold snow all around you in the city itself? Perfect for children to have the time of their life, the Snow City in Bangalore is a great place for families to spend some quality time under one roof. It is just 14-minutes away from Bangalore Palace.
Fun World Amusement Park
Combining another level of adventure with an exclusive selection of thrilling rides, water slides and other recreational activities, the Fun World Amusement Park in Bangalore promises you to fill your day with full of fun and excitement. You can try your hand at your favourite ride to add some spice to your life. It is just 4.7 km away from Bangalore Palace.
National Gallery of Modern Art
If you're interested in learning more about the historical art and culture, the National Gallery of Modern Art is the right place for you. Inaugurated in the year 2009, the museum is home to several sculptures, paintings and artwork by renowned personalities of India. There is also a charming café to satisfy your little hunger-pangs with some delicious snacks. It is just 3.3 km away from Bangalore Palace.
Other than these sightseeing places, there are several other tourist attractions in Bangalore that can be explored only if you are in the city for a week or so. These include Bangalore Aquarium, Jawahar Lal Bhawan, Lalbagh Botanical Garden, Venkatappa Art Gallery, Indira Gandhi Musical Fountain Park, Vishweshwaraiah Museum, Bannerghatta Biological Park, Wonderla Bangalore, etc.
Got more time? Reach out the team of Holidays DNA to customize the itinerary on your Bangalore local sightseeing tour and get ready to cherish your visit forever.
How to Reach Bangalore Palace?
Nestled in the city centre, Bangalore Palace enjoys an excellent location with great connectivity to the road via several local buses and auto-rickshaws. However, to get down to Bangalore Palace, you need to first reach Bangalore, which can be done through the main 3 modes of transportation such as:
By Air: Approximately 33 km away is the Bangalore International Airport, which takes nearly 45 minutes to cover this distance. To arrive at the Bangalore Airport, you can board a flight that caters to your holiday budget, time and duration. From there, book an airport taxi to explore the popular sightseeing places in Bangalore at your own convenience.
By Train: Bangalore City Railway Station, which is 4.5 km away and Yesvantpur Junction, which is 6.7 km away from Bangalore Palace, receive frequent trains from Hyderabad, New Delhi, Pune, Chennai, Mumbai, Visakhapatnam and other cities of India on a regular basis. Both stations are considered as the primary stations of the city and often serve thousands of passengers every day.
By Bus: Maintaining great connectivity to the national highways and other neighbouring areas via a network of private and state-owned buses, it makes it easy for travellers to enjoy a hassle-free journey to Majestic Bus Stand in Bangalore at pocket-friendly prices. Other than that, there are also several Volvo and sleeper coaches available for your ultimate comfort.
By Road/Self-Drive: Choose to drive all the way if you are staying in the nearby cities or hire a private cab from the list of top car rental companies in Bangalore for a relaxed and comfortable travelling. Driving by road to Bangalore is such a delightful experience, all thanks to the excellent weather, enchanting roads and beautiful countryside.
Get in touch with our team of travel agents for a budget-friendly trip to Bangalore. We, at Bangalore Tourism, present our clients with a wide variety of all-inclusive Bangalore tour packages that can be customized suiting to your holiday style and duration. To know more about the travel deals, please fill in the Contact Us form.
Location Map for Bangalore Palace