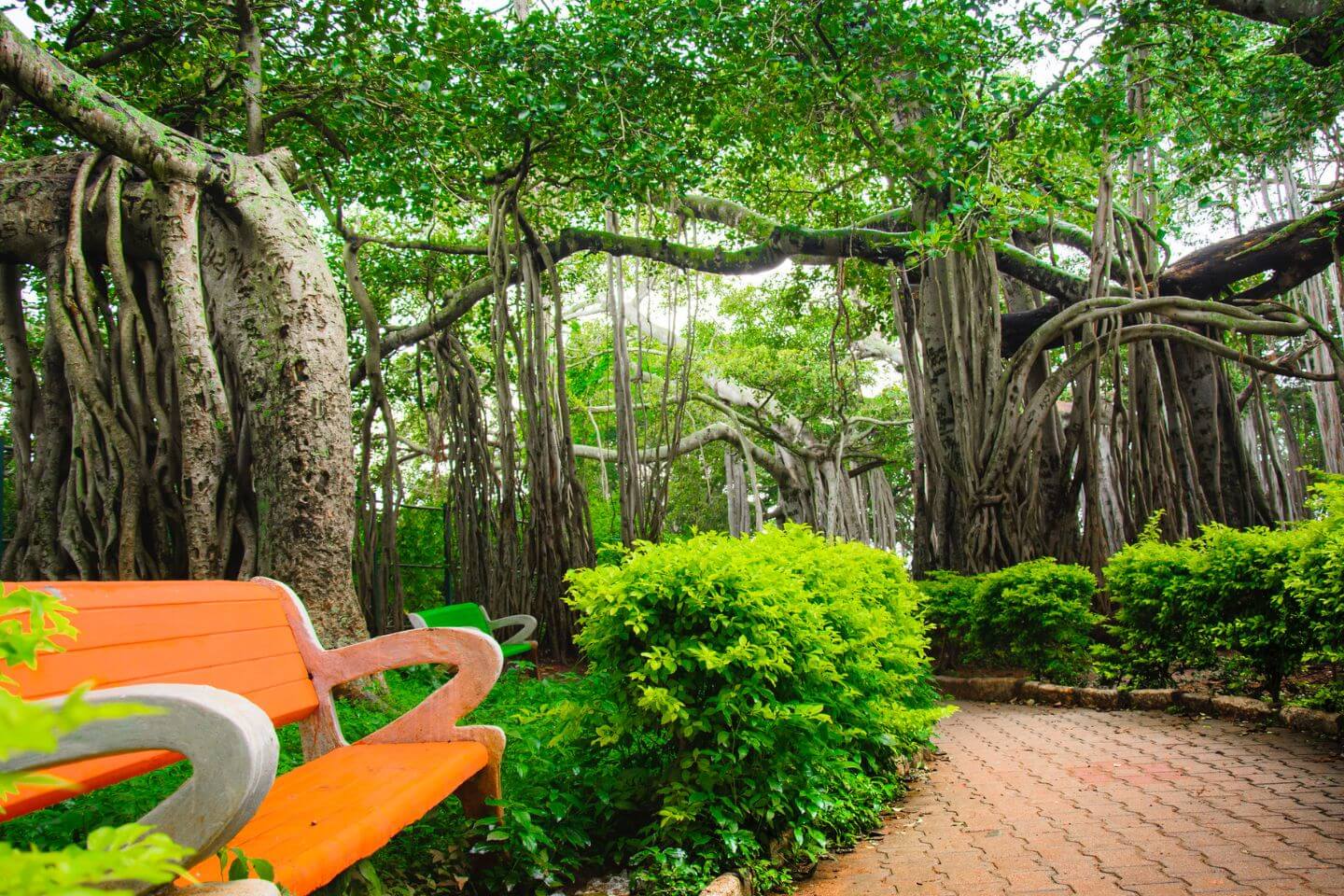 Dodda Alada Mara Bangalore Entry Fee
Dodda Alada Mara Bangalore Phone
N/A
---
Rating:

| 4/5 stars
Based on total 60 reviews
Dodda Alada Mara Bangalore Address: Tavarekere, Uttarahalli Hobli, Bengaluru, Karnataka, 562130, India
Bangalore Tour Packages
Bangalore Local Sightseeing Tours
Dodda Alada Mara Bangalore Timings
| Day | Timing |
| --- | --- |
| Monday | 12:00 am – 12:00 am |
| Tuesday | 12:00 am – 12:00 am |
| Wedesday | 12:00 am – 12:00 am |
| Thursday | 12:00 am – 12:00 am |
| Friday | 12:00 am – 12:00 am |
| Saturday | 12:00 am – 12:00 am |
| Sunday | 12:00 am – 12:00 am |
Links:
Website
|
Map
---
One of the main tourist attractions in Bangalore is Dodda Alada Mara. Approximately 28 kms from the city, you can spot this magnificent giant tree just a little off the main road to Mysuru.
Dodda Alada Mara or The Big Banyan Tree, is a ginormous 400-year-old banyan tree (Ficus benghalensis), located in the village of Kethohalli in Bangalore. Dodda Alada Mara boasts of being the second largest banyan tree in India.
Image Gallery of Dodda Alada Mara Bangalore
This massive tree is characterised by aerial prop roots that have matured into thick, woody trunks, identical to the main trunk with the passage of time. Using these prop roots, the Big Banyan Tree has spread laterally over an area of 3 hectares. After the primary trunk had succumbed to disease in the 2000s, it now appears like a grove of trees, with prop roots interlacing with each other.
Located on the Bangalore-Mysore Highway, Dodda Alada Mara stands tall as a symbol of bygone era in the present times. If you are someone who appreciates flora and fauna in their natural habitat, the Big Banyan Tree is the perfect place to unwind yourself. You can soak in nature's beauty at this place. It offers you an opportunity for an impromptu trip with friends or even solo.
One of the most interesting things about the soil beneath Dodda Alada Mara is that it has not changed over the years and is a place of interest for botanical research by many students and scholars. All in all, this tree is a great sightseeing place for everyone, who is on holiday in Bengaluru or Mysuru.
Things to do at Dodda Alada Mara or The Big Banyan Tree
Dodda Alada Mara is a testimony of the past's significance even in the present, reflecting nature's might if left untouched. Standing in the lap of this magnificent tree, makes the time stop right there. This place allows the tourists or visitors to indulge in various activities.
1. Picnic: Dodda Alada Mara serves as a perfect spot for picnic with family and friends.The vast area covered under its canopy, providing shade and cool breeze is a treat away from the hustle and bustle of the city.
The surrounding area is well maintained with paved pathways and seating arrangements for the visitors. You can simply sit and enjoy the calmness and magnificence of the Big Banyan Tree. Just grab a mat, pack yourself a quick snack or two, and you are ready for a weekend picnic!!
2. Long Walks: Dodda Alada Mara provides you an opportunity to admire the greatness and nobility of nature. Here, people can enjoy taking a stroll in the lap of nature.
3. Spiritual Visit: As the tree itself is holy to the Hindus, a lot of devotees visit Dodda Alada Mara to pray amidst its calm and peaceful surroundings. There is also a small temple dedicated to Lord Muneshwara in the lap of this giant tree.
Some believe that Dodda Alada Mara or the Big Banyan Tree epitomize the holy trinity of the Hindu Gods. The root, stem and branches represent Lord Brahma, Lord Vishnu and Lord Shiva respectively.
4. Cycling: Cycling is another leisure and adventurous activity to undertake around the Big Banyan Tree. Fitness enthusiasts and bikers enjoy cycling in the vicinity of the tree. Several cycling clubs and associations organise cycling events in the wee hours of the morning. Visitors can also cycle to Manchanabele Dam, which is approximately 10 kms from Dodda Alada Mara.
5. Photography: This place is a paradise for professional as well as amateur photographers. People can engage in nature photography as well as candid photography. Dodda Alada Mara is home to a lot of animals and birds like monkeys, squirrels, sparrows, asian koels, myna, etc. which can be captured in your camera lens.
Places to visit near Dodda Alada Mara
1. Manchanabele Dam: Manchanabele Dam is located 10 kms from the Dodda Alada Mara. Backwaters at the dam attract a variety of migratory birds to this area. Blue of waters surrounded by mountains give a picturesque view. The waters are just for sightseeing and not suitable for swimming owing to the risks involved.
2. Muktinaga Temple: Muktinaga temple is approximately 5 kms from the Dodda Alada Mara. Muktinaga Temple is one of the recently built temples though the legend of this temple is almost a century old. It houses the world's largest monolithic statue of Lord Naga which is about 16 feet tall. As per the local belief, devotees make 9 pradakshinas around the ant hill (hutta) for the fulfillment of their desires within 90 days.
3. Dwadasha Jyotirlinga: The Dwadasha Jyotirlinga Devasthana is one of the unique and big temples in Karnataka. You can worship all the 12 Jyotirlingas at this temple. It is approximately 15 kms from the Big Banyan Tree.
4. Turahalli Forest: Turahalli Reserve Forest is approximately 19 kms from Dodda Alada Mara. It's a dense forest and if luck is on your side, one might spot mongoose, jackal, peacocks, etc.
How to reach the Big Banyan Tree or Dodda Alada Mara
You can reach Dodda Alada Mara by travelling approximately 7 kms off the road at the Kumbalagodu Junction on Bangalore-Mysore Road. Buses are available from Majestic (Kempegowda) Bus Station to Kengeri and from Kengeri to Dodda Alada Mara.
You can find direct buses from KR Market, Bangalore to Dodda Alada Mara as well.
Nearest metro railway stations are RV College metro station and Kengeri Metro Station, from where one can hire a taxi or even take autorickshaws to Dodda Alada Mara. You can also hire a private cab from top car rental companies in Bangalore to reach Dodda Alada Mara easily.
Best Time to Visit Dodda Alada Mara
The best time to visit Dodda Alada mara is after the monsoon and just before summer in the months of January to April. Weather around these months is pleasant and less humid, offering visitors a peaceful day to enjoy the natural beauty of the Dodda Alada Mara.
One can visit Dodda Alada Mara on all days of the week, throughout the year.
Care for the Nature
All the visitors are advised to maintain the decorum of the site. Everyone must avoid carving graffiti on this centuries old natural heritage and littering the surrounding area.
One should be sensitive towards the environment and let nature take its rightful place.
Word of Caution for the Visitors
It is recommended to wear breathable clothes and shoes.
It is advisable not to venture too close to the tree. Owing to its age some of the branches are fragile and require support.
Be aware of the monkeys as you might face some trouble from them. Carry your food and other belongings in a bag.
It is advisable to carry your own water and food as there are few eating joints but not very fancy restaurants nearby.
---
Book a Bangalore Tour package and visit all the popular tourist attractions of Bangalore in the comfort of a private car. We at Bangalore Tourism, a division of Holidays DNA offer these packages at best possible rates. Please fill the Contact Us form to know more.
Location Map for Dodda Alada Mara Bangalore