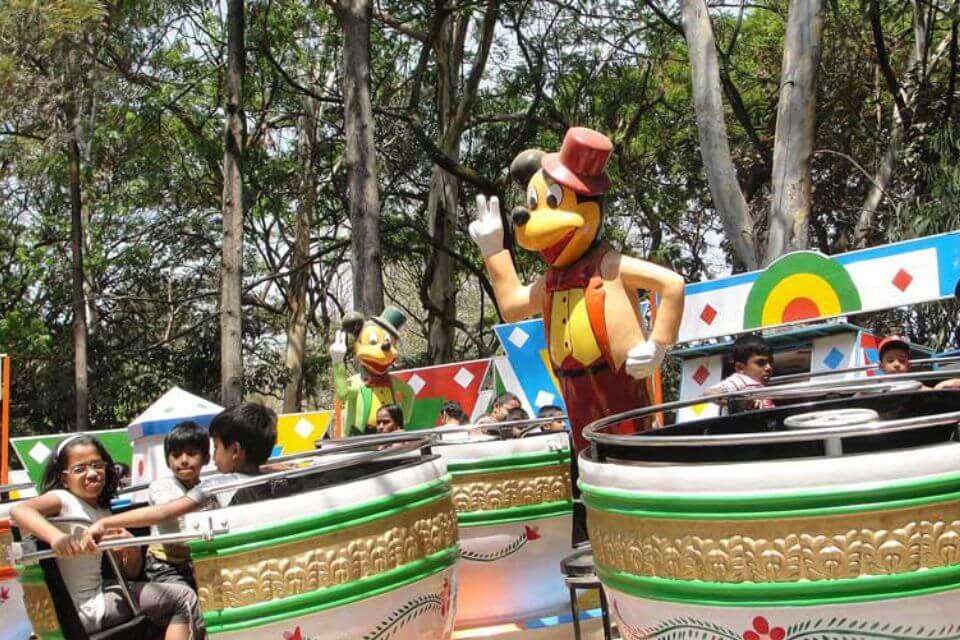 Jawahar Bal Bhavan Bangalore Entry Fee
Entry is free for kids below the age of 10 yrs
Jawahar Bal Bhavan Bangalore Phone
---
Rating:

| 4/5 stars
Based on total 63 reviews
Jawahar Bal Bhavan Bangalore Address: Kasturba Road, Ambedkar Veedhi, Sampangi Rama Nagar, Bengaluru, Karnataka, 560001, India
Bangalore Tour Packages
Bangalore Local Sightseeing Tours
Jawahar Bal Bhavan Bangalore Timings
| Day | Timing |
| --- | --- |
| Monday | Closed / Holiday |
| Tuesday | 10:30 am – 10:00 pm |
| Wedesday | 10:30 am – 10:00 pm |
| Thursday | 10:30 am – 10:00 pm |
| Friday | 10:30 am – 10:00 pm |
| Saturday | 9:30 am – 10:00 pm |
| Sunday | 9:30 am – 10:00 pm |
Links:
Website
|
Map
---
Located in a part of Cubbon Park, which is another popular sightseeing place in Bangalore, Jawahar Bal Bhavan is a must place for every kid. Bal Bhavan Bangalore is located at the end of the Cubbon Park, near the MG road. Spread over 12.5 acres of land, it presents fun-filled along with educational activities for children.
Named after the first Prime Minister of India Pt. Jawaharlal Nehru, Jawahar Bal Bhavan was started as a recreational center for children. It was first opened in the year 1967 which is almost 100 years after the Cubbon Park was established. It is now maintained by the state government.
There are many varieties of slides and swings in addition to vast area of kids to play around. The park is dotted with many life-size figures of animals. Along with activities and slides, another attraction is the toy train ride. A ride of 10-15 minutes on Putani express is something that no kid would want to miss. Putani Express runs from 8 AM to 5 PM every day of the week. Bal Bhavan Cubbon Park also organizes various entertaining events and engaging activities for the children between the ages of 5 years to 16 years. Wide array of shows are also conducted here.
Activities at Bal Bhavan Bangalore
The main objective with which Bal bhavan Bangalore was established was to promote wholistic development of children. For the same purpose, Bal Bhavan society was also established in the year 1985; to create opportunities for children to learn through various entertaining yet educational programs and activities. The efforts are being made to bring out the creative side of every kid, to offer them a suitable environment to develop their unique creative skills. Adventure camps, creative activities, theatres and other extra-circular activities are organised here, catering to varied interests of kids.
Some of the recreational activities which are organised by the Bal Bhavan are summer and annual camp in performing arts, Bala Vedike Programme, activity block, selection camp at local level for Balshree award and children's Kalashree award, various kinds of package programs of school students, etc. A special children's library has also been created. There is a facility for organizing children's birthday parties as well. Initiatives like Sarva Shikshana Abhiyana offering various kinds of creative opportunities for kids of mobile schools have also been started.
Image Gallery of Jawahar Bal Bhavan
Bal Bhavan Cubbon Park, with the support of National Bal Bhavan in New Delhi, also creates suitable atmosphere for scientific learning. Play equipment are being put at the park, where kids can also learn science while playing.
A membership is also offered at Bal Bhavan for kids between the age of 5-16 years. With the membership, children can avail facilities such as library, indoor games, toy train ride, shows, yoga sessions and various summer classes and annual courses at discounted rates.
Timings and Entry Fee of Jawahar Bal Bhavan
Bal Bhavan Bangalore timings on Tuesday to Fridays are from 10.30 AM to 10 PM. It opens at 9.30 AM till 10 PM on Saturdays and Sundays. It is open on all days of the week except on Mondays.
Jawahar Bal Bhawan entry fee is Rs.10 per person, while the entry is free for kids below the age of 10 years. As this place attracts more than 3000 visitors every day, the entry has been now restricted to only families.
How to reach Jawahar Bal Bhawan
The address of Jawahar Bal Bhavan is Kasturba Road, Ambedkar Veedhi, Sampangi Rama Nagar, Bengaluru, Karnataka 560001.
It is easily accessible from other sections of Bangalore via city buses and other public transports such as auto rickshaws. One can also hire a private taxi or travel by their own car, as there is ample of parking space as well near Cubbon Park.
Location Map for Jawahar Bal Bhavan