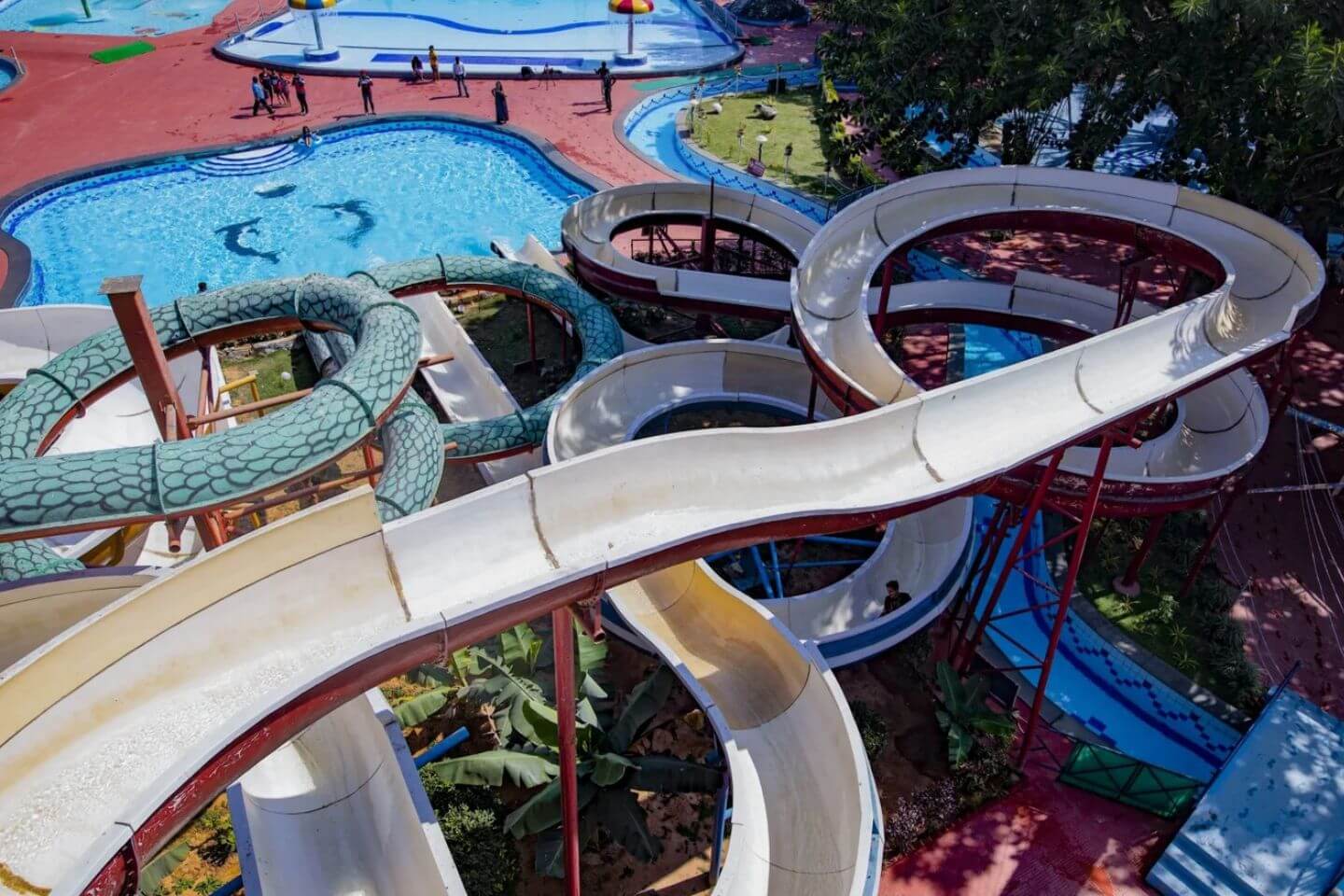 Fun World Amusement Park Bangalore Entry Fee
800 per person for Fun World
900 per person for Water World
1200 per person for Combo ticket (Fun World + Water World)
Fun World Amusement Park Bangalore Phone
---
Rating:

| 4/5 stars
Based on total 65 reviews
Fun World Amusement Park Bangalore Address: Palace Grounds, Jayamahal Main Rd, Opposite TV Tower, J.C.Nagar, Bengaluru, Karnataka, 560006, India
Bangalore Tour Packages
Bangalore Local Sightseeing Tours
Fun World Amusement Park Bangalore Timings
| Day | Timing |
| --- | --- |
| Monday | 11:00 am – 7:30 pm |
| Tuesday | 11:00 am – 7:30 pm |
| Wedesday | 11:00 am – 7:30 pm |
| Thursday | 11:00 am – 7:30 pm |
| Friday | 11:00 am – 7:30 pm |
| Saturday | 11:00 am – 7:30 pm |
| Sunday | 11:00 am – 7:30 pm |
Links:
Website
|
Map
---
Give a kick-start to your weekend at Fun World Amusement Park in Bangalore. Located in the heart of the city centre, the Fun World Amusement Park is one of the finest and oldest amusement parks in India that promises a heavy dose of excitement with an experience filled with unlimited fun, laughter, and luxury.
Combining state-of-the-art facilities with ample entertainment options, the amusement park offers mind-boggling opportunities to create some unforgettable memories with your loved ones. It has a list of never-ending rides for thrill-seekers, a Water World for water babies, a Snow World, and a Wow World with interactive games for children.
With so much to see and do, it won't be wrong to say that the Fun World Amusement Park caters to all ages of people and has something to offer for everyone. It's a kind of amusement park that leaves you enthralled for many days and is, indeed, a place where the enjoyment never ends.
Rides and Activities at the Fun World Amusement Park Bangalore
A perfect getaway for families with kids, this 24-acres amusement park is packed with a wide variety of fascinating rides that will satisfy your hunger for adventure without compromising on quality. It has several rides and slides that are suitable for adults, kids, and families. All rides comply with high safety standards and offer the best experience that is hard to get anywhere else.
High-Thrill Rides at Fun World Amusement Park
Heaven for adventure junkies, the high-thrill rides at Fun World Amusement Park are specially designed to keep your excitement level high so that you keep coming here time and time again to bring out the best of adventure in you. A few of them include:
Sky Drop: Get ready to feel an adrenaline rush with free falls at a varying speed at Sky Drop. This ride first takes people to the top and then suddenly releases the chamber down without any warning.
Power Surge: Enjoy 360-degree spins in a clockwise and anti-clockwise direction at Power Surge. It's a kind of ride where you can test your limits and patience level while flying high in the air.
The Loop Roller Coaster: Sit comfortably on a roller coaster ride and experience the unexpected twists and turns with a variation in speed. This ride is a star attraction of the amusement park.
Tsunami: Have the best time of your life at Tsunami and listen to your fast beating heart as you go for a literal spin. This ride can accommodate up to 20 people and is not advisable for all those who are having heart problems.
The Palace Eye: Hold on to your seats tightly and see the world from a different perspective at The Palace Eye. It's the kind of ride one cannot forget for a lifetime.
Crazy Fireball: True to its name, this ride will make you go crazy in no time. Here you can experience eccentric spins in an unpredictable way.
Image Gallery of Fun World Amusement Park
Kids' Rides at Fun World Amusement Park
A dedicated zone for the entertainment of children, the kid's area features plenty of rides to keep your children engaged throughout the day. These include:
Toy Train: Make your children sit in little bogies of this tiny train and see them laughing out loud. It's a mini toy train ride that is quite popular among kids.
Mini Columbus: Specially made for kids, this Mini Columbus ride takes your little toddlers to back and forth position repeatedly. Since this ride is a bit scary, it's important to keep an eye on your children.
Flying Appu: A mini-version of Merry-Go-Round ride, the Flying Appu is a classical carnival ride where your kids can sit in an elephant-shaped seat and add some adventure to their life.
Revolving Tower: Let your kids witness the complete view of the Fun World Amusement Park at the Revolving Tower ride that rotates in a circular movement.
The Jumping Frog: Contrary to its name, this ride allows your children to enjoy free falls from a certain height. Here the kids are safely harnessed to their seats, so you don't have to worry about anything.
Kiddies Bumper Boat: In this ride, your children can sit in their own boats to have fun in the tiny pool and to enjoy their time with others of their age. It is perfect for kids to play with water.
Family Rides at Fun World Amusement Park
Maximize the fun with your family at the Fun World Amusement Park. Since it boasts rides for families, these rides can be enjoyed by everyone:
Octopus: Enjoy the spin and swirl at the same time in the Octopus ride. Designed in an Octopus shape, the Octopus ride has 8 bucket seats where each bucket can accommodate at least one family.
Super Jet Ride: Fly high in the air and feel the fresh breeze touching your face at the Super Jet Ride. It has small rockets that start rotating slowly in the beginning and then gradually take off.
UFO: Experience an adrenaline rush into your body at UFO. This ride does a lot of movements at the same time, thus keeping your interest and attention hooked till the time you're on the seat.
Hang Glider: Swing around in this ride for a thrilling experience and find yourself half titled in the air. It is not recommended to people with severe medical problems.
Other rides such as The Swing Chair, The Space Vehicle, The Spanish Bull Fight, Merry-Go-Round, Columbus, Giant Wheel, Tora Tora, Panic Clock, Orbit, Flying Tiger, Mini Pirate Ship, Baby Tagada, NFS Car, Children Helicopter, and Children Motor Bike are also available for your enjoyment. With a mix of these rides, you can definitely try something new and different every time you visit this amusement park and add some spice to your life.
Water Park Rides at Fun World Amusement Park
Take a break from the thrilling rides and play with water at the Water World of this amusement park. Featuring a total of 28 slides, the Water World invites you to beat the harsh sunlight during the peak summer months and enjoy splashing around the wave pool. Here you can also try your hand at various water rides or simply choose to sit back, relax, and laze at the lazy river.
Another interesting thing that catches everyone's attention is the Star City Arcade World. Also known as WOW World, the Star City has many electronic and semi-robotic games for the entertainment of kids and also boasts a 12-lane bowling alley where you can spend some time with your friends while bowling.
Whether you're a beginner or a master, it's a kind of game that can make you addicted in no time. You can also pave your way towards the Snow World to feel snowflakes during your visit to this Fun World Amusement Park.
Food and Beverages at Fun World Amusement Park Bangalore
No tour is complete without treating your taste buds with a delectable range of cuisines and your visit to Fun World Amusement Park is no different. Catering to everyone's taste, this unspoiled site presents a large assortment of culinary delights that you just can't resist.
While you enjoy the ambiance of the in-house restaurants that are centrally located at the park, you can indulge yourself in the mouth watering dishes that are served with a smile. Couple this with excellent hospitality services and you get an evening to be remembered forever.
The food courts at the Amusement Park offer a wide variety of delicacies for people of all ages. Whether you're a typical North Indian or a South Indian or would like to have Italian, Mexican, or Pan-Asian delicacies in your palate, you'll be given ample choices to satisfy your hunger pangs.
You can also hog on your favorite American Fast Food in between the rides/slides or simply choose to have cotton candy or fresh kernels of corn as a part of snacking.
Entry Fee and Timings of Fun World Amusement Park Bangalore
The entry fee to visit the Fun World is INR 800 per person and Water World is INR 900 per person. However, if you want to enjoy both, you'll need to pay INR 1200 per person for a combo.
It welcomes its visitors from 11:00 AM in the morning to 7:30 PM in the evening and is open on all days of the week.
Best Time to Visit Fun World Amusement Park Bangalore
Although the weather in Bangalore remains pleasant almost throughout the year, visiting the Fun World Amusement Park during the summer season would be the best time for people who are looking to beat the scorching heat of the sun. Also, in summers, it's always great to take a plunge into the pool and enjoy the splashes of water.
Facilities at Fun World Amusement Park Bangalore
What makes the Fun World Amusement Park different from other amusement parks in Bangalore is the diverse range of facilities offered at your disposal. A few of them include drinking water stations, separate changing rooms for both males and females, lockers to keep your belongings safe, an ATM machine for instant cash withdrawal, and enough parking space to park your vehicle.
Other than that, there is also a lost and found counter, a prayer room, and a help kiosk desk for the assistance of people coming from all over the world. In case of any emergency, basic first aid help is also available within the premises of the park.
Travel Tips for Fun World Amusement Park Bangalore
Do not forget to carry your own swimsuit. Though it is provided to everyone by the park authorities, in case it doesn't fit you, you can wear yours.
Always keep a pair of extra cloth in your bag. Since you're going to the water park, the chances are you'll probably need them after all the fun.
Follow all the instructions given at the time of rides or slides. If you don't, you might need to face severe consequences.
Make sure to apply sunscreen on your soft and sensitive skin to protect it from harsh sunlight.
How to Reach Fun World Amusement Park Bangalore?
Reaching Fun World Amusement Park in Bangalore is quite easy. Since it is situated opposite the JC Nagar, it can be easily accessed by local transport. Once you arrive in the city, you can either hire a private taxi from the list of top car rental companies in Bangalore or simply choose to commute via an auto-rickshaw or a bus.
Distance from the nearest airport: 30 Km
Distance from the nearest railway station: 6.9 Km
Distance from the nearest bus stand: 6.7 Km
Have a great time while exploring the popular places to visit in Bangalore during your Bangalore Tour by booking an all-inclusive Bangalore tour package with us. We at, Bangalore Tourism, a division of Holidays DNA, also offer tailor-made packages that cater to your holiday budget, needs, and other preferences. Need some help in finalizing the itinerary for your visit to Bangalore? Please fill the Contact Us form.
Location Map for Fun World Amusement Park Bangalore