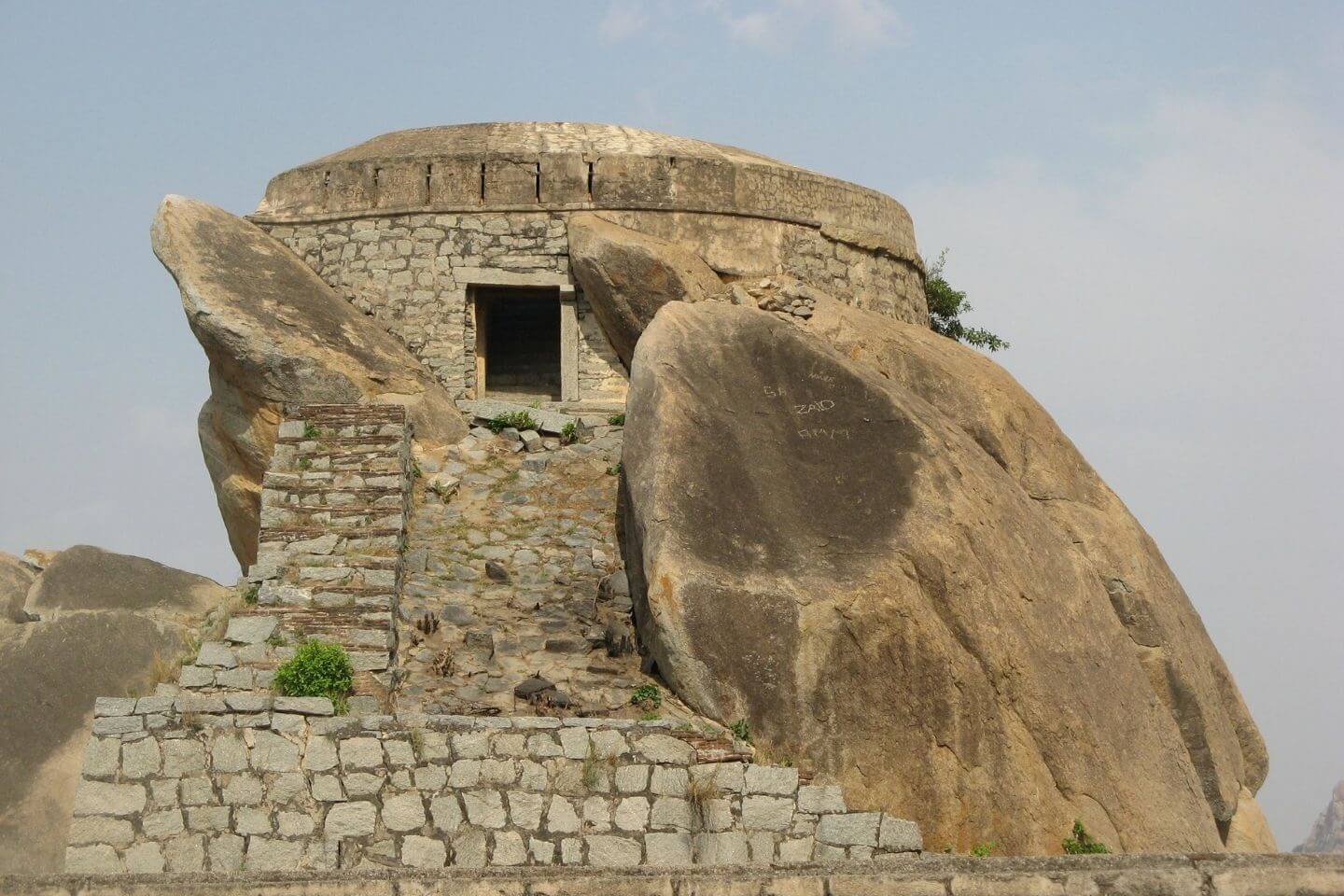 State: Karnataka
Location: Taluk Headquarters in Tumkur district in Karnataka
Distance: 107 km from Bangalore city
Journey time: 2.5 hrs by road
Route: via Nelamangala, Dabaspete (take right turn in Dabaspete), Urdigere, Koratagere to Madhugiri (102 km); via Tumkur, Koratagere to Madhugiri (114 km).
---
Rating:

| 4/5 stars
Based on total 54 reviews
Bangalore Tour Packages
Madhugiri near Bangalore Address: KSRTC Bus Stand Rd, Madhugiri, Karnataka, 572132, India
Links:
Website
|
Map
---
Boasting of Asia's second largest monolith, Madhugiri is located 107 km away from the Bangalore city. Also known as Maddagiri, it is located about 43 km north of Tumkur District. Here at Madhugiri which means Honey Hill (Madhu-giri) you are greeted with refreshing greenery along with the famous monolith.
Madhugiri is visited by many pilgrims who come to seek blessings at the two famous temples, namely Venkataramanaswami Temple and Malleshwara Temple. These temples have been built in the captivating Dravidian style. The main attraction here is the fort which has been made on top of a rock. It is said that this fort belonged to Hyder Ali, who had acquired this after the conquest of Bednur. He had imprisoned The Queen of Bednur in this fort until it was capturered by the Marathas in 1767 A.D. The Madhugiri Fort is said to be built by the Vijaynagar dynasty.
For reaching the top there are various doorways which make way for a steep climbing. Ruins of Gopalakrishna temple can be found at the top of the hill. There are many Jain temples as well at this place which are visited by many pilgrims. For a taste of wild nature, you can visit the Madhugiri State Forest, which is also known as Timmalapura Forest.
Image Gallery of Madhugiri Bangalore
On the way to Madhugiri via Tumkur, you can explore Chennarayana Durga, which is one of the nine Durga forts which has a small temple and a few ruins. There are many interesting sites to explore in an around Madhugiri such as Maidana Halli Blackbuck Sanctuary, Siddara Betta and many others.
Location Map for Madhugiri near Bangalore