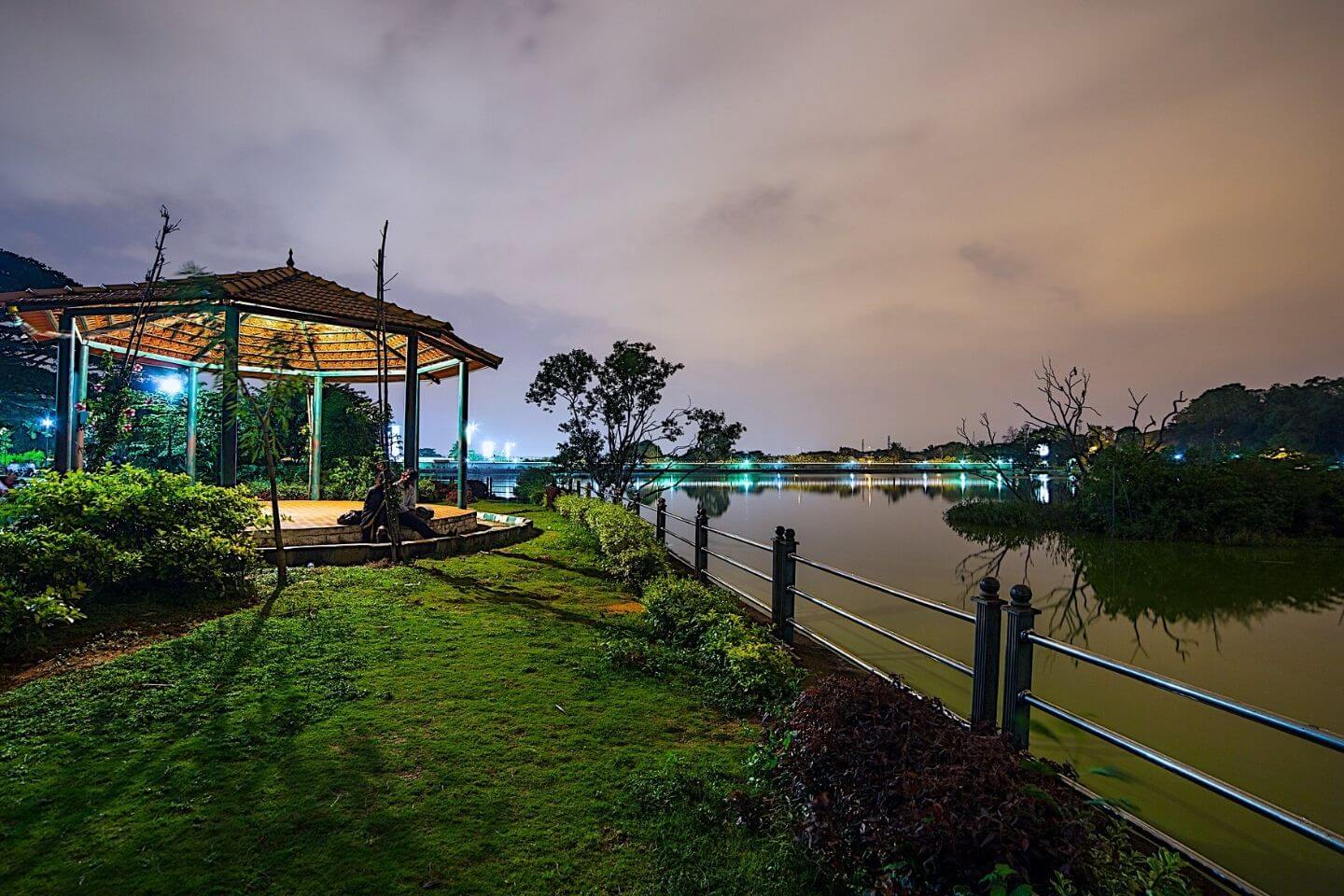 Sankey Tank Bangalore Entry Fee
10 per person for Adults
5 per person for Children
10 per person for Boating
20 per person for Boating plus drop in and out of an island in Sankey tank
N/A for Still Camera
N/A for Video Camera
Sankey Tank Bangalore Phone
N/A
---
Rating:

| 3/5 stars
Based on total 52 reviews
Sankey Tank Bangalore Address: 11th Cross Road, Kodandarampura, Gayathri Nagar, Bengaluru, Karnataka, 560021, India
Bangalore Tour Packages
Bangalore Local Sightseeing Tours
Sankey Tank Bangalore Timings
Day
Timing
Monday
6:00 am – 10:00 am
4:00 pm – 7:00 pm
Tuesday
6:00 am – 10:00 am
4:00 pm – 7:00 pm
Wedesday
6:00 am – 10:00 am
4:00 pm – 7:00 pm
Thursday
6:00 am – 10:00 am
4:00 pm – 7:00 pm
Friday
6:00 am – 10:00 am
4:00 pm – 7:00 pm
Saturday
6:00 am – 10:00 am
4:00 pm – 7:00 pm
Sunday
6:00 am – 10:00 am
4:00 pm – 7:00 pm
Links:
Website
|
Map
---
Located in the western part of Bangalore, Sankey Tank lies quite near to area of Vyalikaval, Malleshwaram and Sadashivanagar. One of the popular hangout places in Bangalore, Sankey Tank is an artificial lake which is spread across an area of about 37.5 acres.
Built in the year of 1882 by Col. Richard Hieram Sankey of the Madras Sappers Regiment on whose name the lake is now being called as. The lake was built with the purpose of catering to the demands of water supply throughout Bangalore. It was also called with the name Gandhadhakotikere because of the Sandalwood Depot which was located close to the lake.
A perfect place for nature lovers to have a few moments amidst refreshing nature and calm surroundings, lake also attracts visitors who are looking for some fun filled activities. The Mayura Sankey Boat Club offers visitors with a wide variety of boat rides such as row boats, pedal boats and motor boats. You can enjoy boating and drop to and from the island which is located in the middle of the island at minimal charges. This boat club is managed by KSTDC.
Image Gallery of Sankey Tank Bangalore
Not just boating, this lake presents various recreational options to its visitors. The park here is bestowed with lush and beautiful flowering plants and trees. There is also a swimming pool and a Forest Department nursery in direction of the south and north respectively. You can visit this lake and enjoy boating with your family and friends. The visiting hours are from 6 am to 10 am and then from 4 pm to 7 pm.
Location Map for Sankey Tank Bangalore