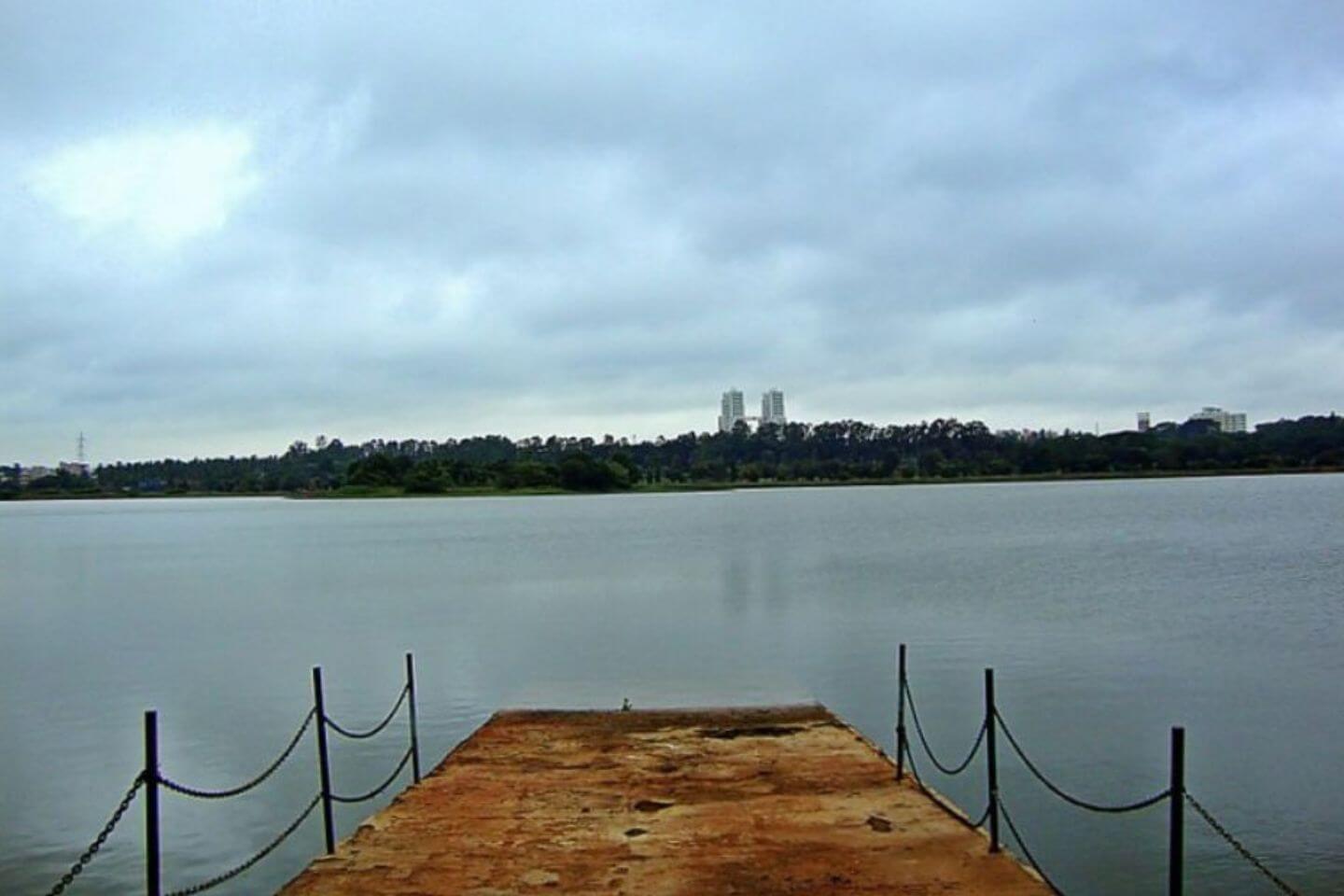 Hebbal Lake Bangalore Entry Fee
20 per person
20 parking fee
Hebbal Lake Bangalore Phone
N/A
---
Rating:

| 4/5 stars
Based on total 67 reviews
Hebbal Lake Bangalore Address: Hebbal Kempapura, Bengaluru, Karnataka, 560024, India
Bangalore Tour Packages
Bangalore Local Sightseeing Tours
Hebbal Lake Bangalore Timings
| Day | Timing |
| --- | --- |
| Monday | 6:45 am – 6:45 pm |
| Tuesday | 6:45 am – 6:45 pm |
| Wedesday | 6:45 am – 6:45 pm |
| Thursday | 6:45 am – 6:45 pm |
| Friday | 6:45 am – 6:45 pm |
| Saturday | 6:45 am – 6:45 pm |
| Sunday | 6:45 am – 6:45 pm |
Links:
Website
|
Map
---
One of the most popular sightseeing places in Bangalore is the charming Hebbal Lake, which is located along the junction of Bellary Road and the Outer Ring Road (ORR). If you are someone who is interested in spending time in the lap of nature, this magnificent lake is a must visit! Surrounded by the ever growing sky high concrete buildings of the city, this lake is a treat to your eyes and soul.
It is a seasonal lake that dries up in summer and returns to its resplendence with monsoon showers every year. Tall trees and flowering plants lining the lakeside enhance the gloriousness of the lake. One can take a leisurely stroll on the well-maintained walkway.
History of Hebbal Lake
Hebbal lake is one of the many lakes commissioned by Kempe Gowda I, founder of Bengaluru or Bangalore in the mid 15th century. Similar to the other lakes and tanks, Hebbal Lake was also formed by blocking the natural valley systems by the construction of bunds or embankments.
Over the years, Hebbal lake had lost its splendor owing to water pollution, poor maintenance and lack of mass awareness. It was restored at a great budget in the late 1900s and two artificial islands were also created to develop a sustainable ecosystem. Since then, it has been attracting scenic admirers everyday.
This beautiful lake is managed by the Lake Development Authority; a non- profit organisation which was created to maintain the lakes in the city.
Image Gallery of Hebbal lake Bangalore
Things to do at Hebbal lake
Hebbal Lake is one the most frequented tourist attractions in Bangalore owing to its natural charm. Tourists travelling to and from Kempegowda International Airport would have seen this magnificent lake. It is one of the few existing natural water bodies in the city. Highlights of this lake are:
1. Bird Watching: This place is a paradise for the budding ornithologists and bird lovers. Here one can watch the variety of local birds as well as the arrival of the wintering birds that congregate to the lake every season. The two islands on this lake play host to several species of migratory birds by providing food and breeding grounds.
This lake is a welcome relief to the birds in terms of water, flora and fauna along with Bangalore's warm weather. Birds arrive at Hebbal Lake in hundreds and thousands, giving nature's approval and making it their home for winters.
If you are lucky, you might spot a few or more Baillon's Crake, Crested Serpent Eagle, River Tern, Northern Shovelers, Northern Pintail, Glossy ibis, Little Grebes, etc. Many resident birds like the Doves, Pigeons, Larks, Storks, Cormorants, Herons, and Darters are all also settled here.
2. Photography: Hebbal Lake is a perfect location for all the photography enthusiasts. If you are interested in capturing exotic birds and nature in your lens, this might be the place to be. This beautiful lake with lush greenery all around, provides photographers an idyllic backdrop for their clicks.
3. Picnic: Hebbal lake is an ultimate picnic spot with family or friends. Well maintained park with the lake in its backdrop paints a quaint portrait to behold. It's an ideal weekend getaway for you with your loved ones.
4. Leisurely Strolls: One can take a relaxed nature walk along the lakeside. The sidewalk is lined with tall green trees providing the joggers and fitness enthusiasts a much needed cool shade. Just head to Hebbal Lake to pamper yourself with a rejuvenating break from the day to day routine.
5. Watching Sunrise and Sunset: The best way to start your day is none other than rising up with the Sun, literally. If you would like to catch up with the Sun, just head to the Hebbal flyover and witness a mesmerising sunrise from the very top of the expressway. You would be enchanted with the beauty of the Hebbal lake and the greenery surrounding it. This sunrise can present you some perfect snapshots to be treasured.
How to reach Hebbal Lake
Bangalore being one of the popular tourist destinations is well connected through roadways, railways and air. Hebbal lake is easily accessible from all parts of the city by State roadways buses, private taxis or by auto rickshaws. You can also hire a cab from top car rental companies in Bangalore to reach Hebbal lake from any part of the city.
Best Time to visit Hebbal Lake
Best time to experience the natural splendor of Hebbal Lake is Spring and post monsoon seasons. However, whenever you plan to visit, the lake won't fail to impress you with its gloriousness.
Hebbal Lake Timings
Hebbal lake is open from 6.45 AM to 6.45 PM, on all days of the week. You can visit it at any time of the day as per your ease, still morning and evening hours are much cooler and calmer to head out to the lake.
Hebbal Lake Entry Fee
There is an entry fee of Rs. 20 per adult and an additional amount of Rs. 20 for parking. The entry to the parking lot is little further from the main entrance to the lake.
Places to visit near Hebbal Lake
1. Sankey Tank: Sankey Tank is located at a distance of almost 9 kms from Hebbal lake. It has a lot to offer the tourists in terms of natural beauty as well as recreational activities like boating.
2. St. Mary's Basilica: At a distance of approximately 12 kms, one can visit the only "Basilica" in the state. This age-old church is an architectural delight to the eyes.
3. Lumbini Gardens: It is another popular sightseeing place near Hebbal Lake. A lovely park which kids and adults can enjoy throughout, is just 6 kms from the lake.
4. Karnataka Chitrakala Parishat: For someone who is interested in arts, this place is a must visit. One can enjoy exclusive exhibits of crafts and painting at Karnataka Chitrakala Parishat. It is located at a distance of approximately 10 kms from the lake.
5. ISKCON Temple: Sri Radha Krishna-Chandra temple is located in North Bangalore at a distance of approximately 12 kms from the lake. It is one of the finest and most beautiful temples in the city to visit.
---
Bangalore Tourism, a division of Holidays DNA offers all-inclusive Bangalore tour packages to ensure a fun filled vacation for its customers. With our packages, you can visit all the popular sightseeing places of Bangalore comfortably. Reach out to us by filling the Contact Us form to know further.
Location Map for Hebbal Lake Bangalore