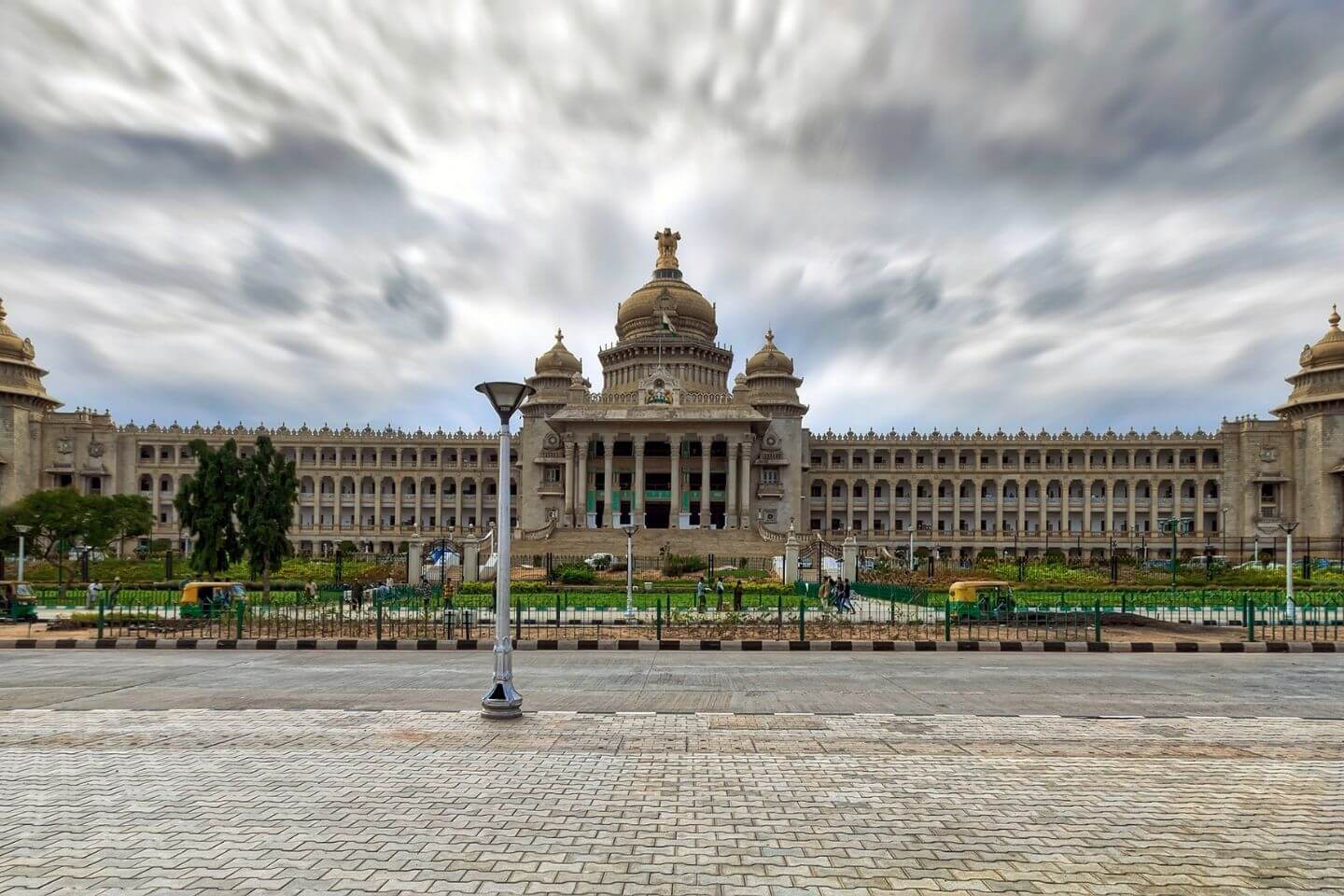 Vidhana Soudha Bangalore Entry Fee
No entry without permission
Vidhana Soudha Bangalore Phone
---
Rating:

| 3/5 stars
Based on total 65 reviews
Vidhana Soudha Bangalore Address: Dr Ambedkar Rd, Sampangi Ramnagar, Bengaluru, Karnataka, 560001, India
Bangalore Tour Packages
Bangalore Local Sightseeing Tours
Vidhana Soudha Bangalore Timings
| Day | Timing |
| --- | --- |
| Monday | 9:00 am – 5:00 pm |
| Tuesday | 9:00 am – 5:00 pm |
| Wedesday | 9:00 am – 5:00 pm |
| Thursday | 9:00 am – 5:00 pm |
| Friday | 9:00 am – 5:00 pm |
| Saturday | Closed / Holiday |
| Sunday | Closed / Holiday |
Links:
Website
|
Map
---
Located near Cubbon Park, Vidhana Soudha is one of the popular tourist attractions in Bangalore. With the fame of being the largest legislature-cum-office building in India, it does make for an interesting visit. It boasts of almost 300 rooms which can accommodate close to twenty-two departments of the state government.
Spread across an area of 550505 sq ft with an overall length of 700 feet and width of 350 feet, this majestic building captivates visitors not just with its size but its architectural beauty. If we measure from floor level to the central dome, its height comes to about 150 ft.
It has been decorated with four domes with each dome in each corner. The entrance of the building has the national symbol of India - Four-headed Lion in front. Not just entrance even the doors and windows display marvelous carvings which add on to the entire beauty of the building.
It has been built in the Dravidian style and from the Bangalore Granite which was excavated from the areas of Mallasandra and Hesaraghatta. The credit of building this mesmerizing building of Vidhana Soudha goes to late Sri K Hanumanthaiah, Chief Minister of the then Mysore State (1951 to 1956). The conceptualization as well as execution was done under his guidance.
Image Gallery of Vidhana Soudha Bangalore
The construction project of this building was started in the year of 1952 and was completed in the year of 1956, which took around Rs. 1.75 crores. Best time to visit Vidhana Soudha is in evenings when it is decorated with lights, from 6:00 to 8:30.
Location Map for Vidhana Soudha Bangalore