Bannerghatta National Park | Weekend Getaway Break from Bangalore
State: Karnataka
Location: Just south of Bangalore City
Distance: 23 km south of Bangalore
Journey Time: 1 hr by road
Route: Bannerghatta Road to Bannerghatta National Park via IIM Bangalore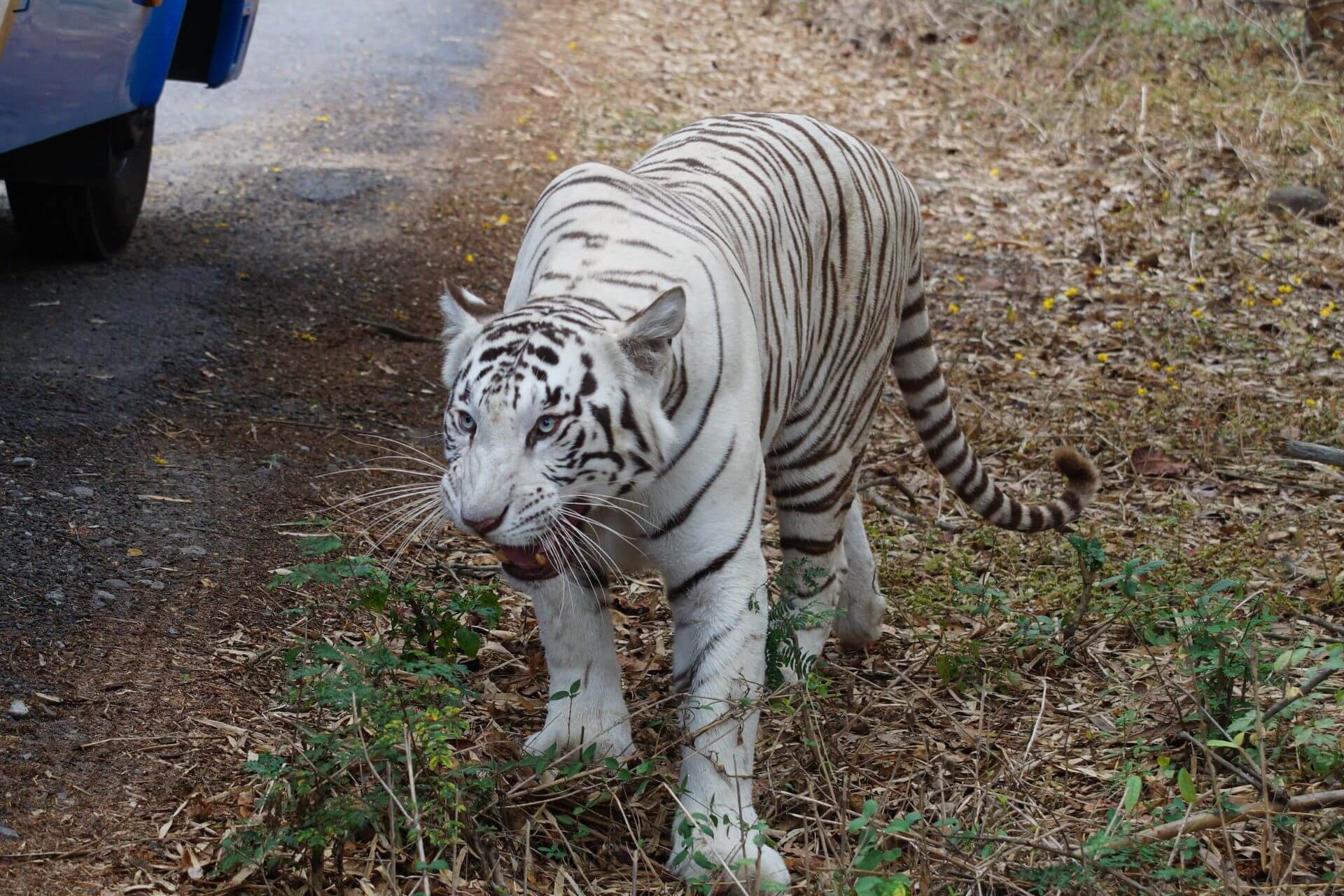 Bannerghatta National Park Entry Fee
Bannerghatta Zoo Park Entry Fee
Adult
₹80/-
Child (6 to 12 Yrs)
₹40/-
Senior Citizens (above 60 Yrs)
₹50/-
Adult Foreigners (Non-SAARC)
₹400/-
Child Foreigners (Non-SAARC)
₹300/-
Bannerghatta Butterfly Park Entry Fee
Adult
₹30/-
Child (6 to 12 Yrs)
₹20/-
Senior Citizens (above 60 Yrs)
₹20/-
Adult Foreigners (Non-SAARC)
₹400/-
Child Foreigners (Non-SAARC)
₹300/-
Bannerghatta National Park Safari Entry Fee
Bannerghatta Bus Safari Entry Fee
Type of Entry
Regular Trip Non-A/c Bus
Special Trip A/c Bus
Adult
₹260/-
₹500/-
Child (6 to 12 Yrs)
₹130/-
₹300/-
Bannerghatta Jeep Safari & Car Safari Entry Fee
Vehicle Type
Special Vehicle Fare
6 Seater Non-AC Jeep
₹3000/-
6 Seater AC Jeep
₹3500/-
8 Seater Non AC Jeep
₹4000/-
Xylo Car
₹4000/-
Innova Car
₹5000/-
Bangalore Tour Packages
Bangalore Local Sightseeing Tours
Bannerghatta National Park Boating Fee
60 per person / trip (30 minutes a trip)
300 full boat hire / trip (upto 4 persons) (30 minutes a trip)
25 for Still Camera
200 for Video Camera
Bannerghatta National Park Phone
---
Rating:

| 4/5 stars
Based on total 76 reviews
Bannerghatta National Park Address: Bannerghatta Road,, Bengaluru, Karnataka, 560083, India
Bannerghatta National Park Timings
| Day | Timing |
| --- | --- |
| Monday | 09:30 am – 5:00 pm |
| Tuesday | Closed / Holiday |
| Wedesday | 09:30 am – 5:00 pm |
| Thursday | 09:30 am – 5:00 pm |
| Friday | 09:30 am – 5:00 pm |
| Saturday | 09:30 am – 5:00 pm |
| Sunday | 09:30 am – 5:00 pm |
Venue
Timings
Zoo Park
09:30 AM to 5:00 PM
Tuesday Holiday
Safari
10:00 AM to 4:30 PM
Tuesday Holiday
Butterfly Park
09:30 AM to 5:00 PM
Tuesday Holiday
Boating
09:30 AM to 5:00 PM
Tuesday Holiday
Links:
Website
|
Map
---
It is not in every city that you find a place bestowed with scenic beauty and full of exquisite flora and fauna. Bannerghatta National Park which is approximately 21 km from the city of Bangalore presents tourists with perfect weekend options. There is nothing like relaxing amidst the refreshing natural setting after hectic work pressure and monotony of daily chores. Excitement of seeing the bravest of all the animals, tigers, from few inches of distance and the pleasure of looking at colourful and exotic plants is unexplainable.
Established in the year of 1971, Bannerghatta National Park is spread across 104. 27 sq.kms and has ten reserve forests of Anekal Range of the Bangalore Forest Division under it. Once at the national park, you will have more than one option to keep yourself engaged. Along with national park, Bangerghatta has an Aquarium, a Zoo, Children's park, Crocodile Farm, Snake park, Prehistoric animals park and a Museum. From families with children to adventure lovers, every one has something of their choice here.
The overall beauty of the park gets a boost from the Suvarnamukhi stream, originating in the Suvarnamukhi hills and runs through the park. Suvarnamukhi hills spread out to a huge rock and have famous Champaka Dhama Swamy temple which belongs to the Hoysala age at the foothill of the rock. The Suvarnamukhi pond that is two kms away is believed to have curative powers.
The National Park as a Butterfly Park too. Being first of its kind in India, Butterfly Park is one of the major attractions. The park is spread across an area of 7.5 acres, and has a butterfly conservatory, a museum and an audio-visual room.
Activity : Bannerghatta National Park
You have umpteen number of options for activities near by the national park. Apart from rides in open jeeps, mini buses, vans and elephants, tourists can go for fishing, Coracle boat rides, Bird watching, River rafting and Outdoor camping. There are various trekking places as well. Some of these are Uddigebande (3.5 kms.), a natural rock formation called Hajjamana Kallu (3 kms.) and Mirza Hill (1.5 kms.)
Fauna : Bannerghatta National Park
Although famous for tigers, Lions, Thamin deer, hog deer, king cobra, Himalayan black bear and Malabar giant squirrel you can also spot wild animal such as Elephant, gaur, leopard, jackal, fox, wild pig, sambar, chital, spotted deer, barking deer, common langur, bonnet macaque, porcupine, the hare, pangolin, slender loris and huge monitor lizards like cobras, pythons, kraits and Russell vipers in the national park. Tiger and Lions can be seen across 25,000 acres of the Park which is securely fenced.
Image Gallery of Bannerghatta National Park
The Bannerghatta National Park has amazing population of birds as well adding charming colours to the park. Cormorants, white ibis, little green heron, grey heron, paradise flycatcher, Tickell's Blue Flycatcher, Common Grey Hornbill, White bellied Drong, Spotted Owlet, Collared Scop's owl, Mottled Wood Owl, Eurasian Eagle owl and Brown Fish owl are few constituting the avian population on the park.
Flora: Bannerghatta National Park
The Bannerghatta National Park has mainly moist deciduous teak forest. Bamboos are quite common in the park with Dendrocalamus strictus being the most commonly found species. Commonly founds species of plants in the park are Anogeissus latifolia, Schleichera oleosa, Terminalia tomentosa, sandal, neem, T. arjuna. Grewia tilaefolia, Santalum album, tamarind, chujjullu, Shorea talura, Emblica officinalis, Vitex altissima, jalari, Wrightia tinctoria, Randia sp. Zizphus sp. and Albizzia sp. There is small area on the park which has mainly plantations of Eucalyptus, Bauhinia purpurea, Samanea saman and Peltphorum pterocarpum.
Visiting the Park:
Although the city of Bangalore and its near by areas has moderate climate and mostly ranges from 15°C to 35°C, the best time to visit the park is during the months from November - June.
You can reach the Park by opting for bus services running from Bangalore which have high frequency or hiring private transportation.
The Park is open for tourists from 9 am and 5 pm. It is closed on every Tuesday of the week. You can buy tickets for entry into the Zoo and Safaris at the main entrance.
Location Map for Bannerghatta National Park