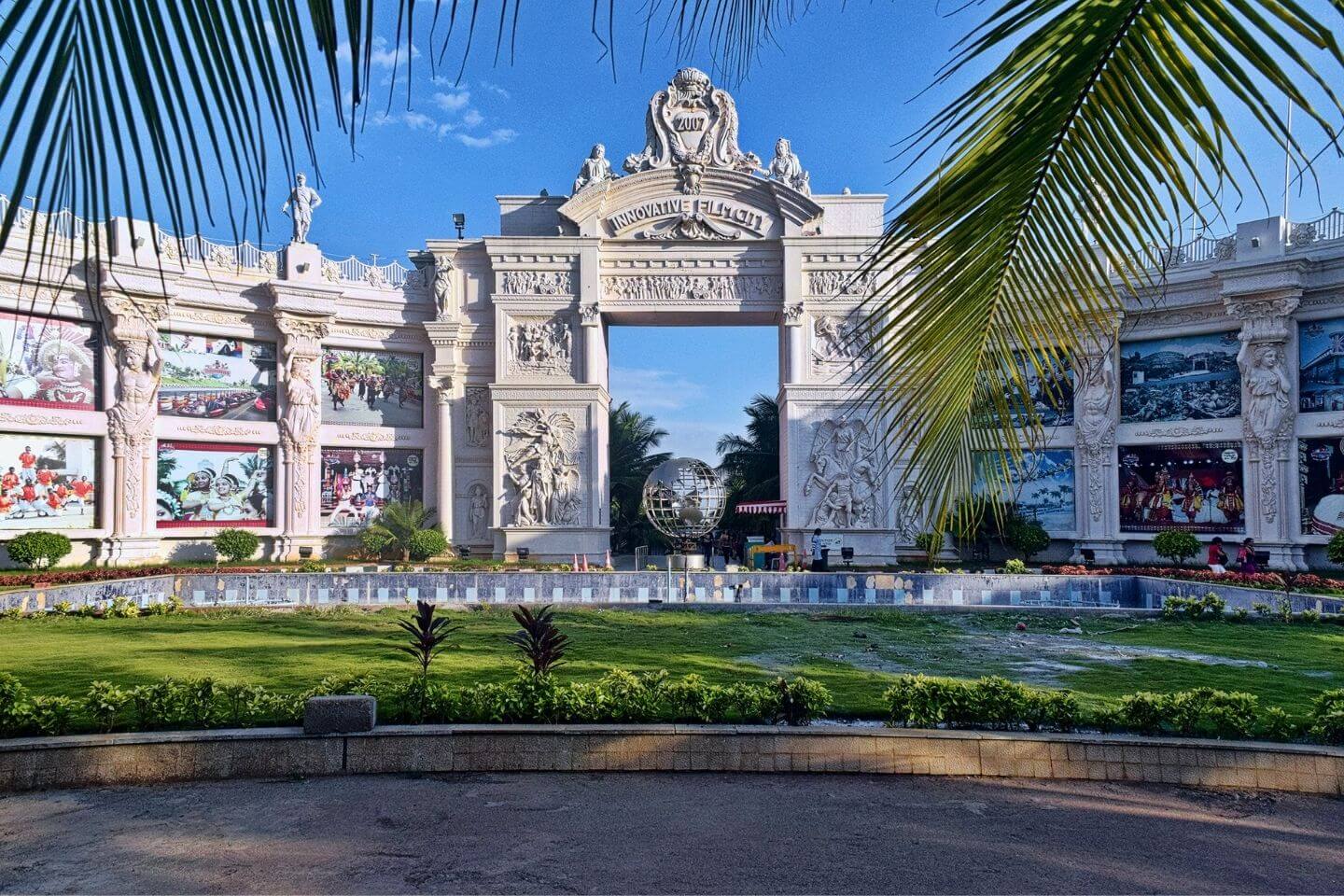 Innovative Film City Bangalore Entry Fee
600 per person (Standard Package)
100 per person Ode to Life - 4D Cinema
150 for Go Karting Family (4 Laps - 2 Persons)
200 for Go Karting Sports (4 Laps - 1 Person for Rs.200/-)
50 for Bungy Jumping (1 Round)
50 for Cricket (3 Overs)
50 for Automatic Bull Ride (3 Chances)
50 per person Zip Line
Innovative Film City Bangalore Phone
9632280124 | 9632280241
9632280245 | 9632280255
---
Rating:

| 4/5 stars
Based on total 72 reviews
Innovative Film City Bangalore Address: 24 & 26, Kiadb Estates, Bidadi, Bengaluru, Karnataka, 562109, India
Bangalore Tour Packages
Bangalore Local Sightseeing Tours
Innovative Film City Bangalore Timings
| Day | Timing |
| --- | --- |
| Monday | 10:00 am – 7:00 pm |
| Tuesday | 10:00 am – 7:00 pm |
| Wedesday | 10:00 am – 7:00 pm |
| Thursday | 10:00 am – 7:00 pm |
| Friday | 10:00 am – 7:00 pm |
| Saturday | 10:00 am – 7:00 pm |
| Sunday | 10:00 am – 7:00 pm |
Links:
Website
|
Map
---
The city of Bangalore has ample of recreational choices for its residents. Located at Bidali, off the Bangalore- Mysore Highway, Innovative Film City is one of the most alluring options which attract people from all age groups. It has something to interest everyone. Its various themes are suitable for both, kids as well as their parents and elders. If you are wondering where to go for a day long outing then Innovative Film city is something you can consider.
There are varied sections here, each offering a unique experience. Some of these are Museum - "Ripley's Believe it or not"; Fashion Café; Wild Wild West; Wax Museum; Haunted Mansion; Fossil Hunt; Dinosaur World; etc. Cartoon City, Water rides and the Wannado City, a role based theme park, are quite popular amongst kids. There are a few new additions as well such as Ode to Earth which presents visitors with an interesting walk- through which is accompanied by an audio visual on Earth's history with multiple screens complimenting it further.
Image Gallery of Innovative Film City Bangalore
The miniature city is also another important feature. Various replicas of wonder of world are also quite an interesting site to watch. Most popular ones are that of the Great Wall of China, Leaning Tower of Pisa, Pyramids of Egypt, Buddhist cave of Ajanta, Statue of Liberty, the White House and many more. Innovative Film city is open from 10 am to 7.00 pm. There many packages which are offered here allowing to visitors to choose as per their interest and budget.
Location Map for Innovative Film City Bangalore